For That Artsy Reader Girl's Top Ten Tuesday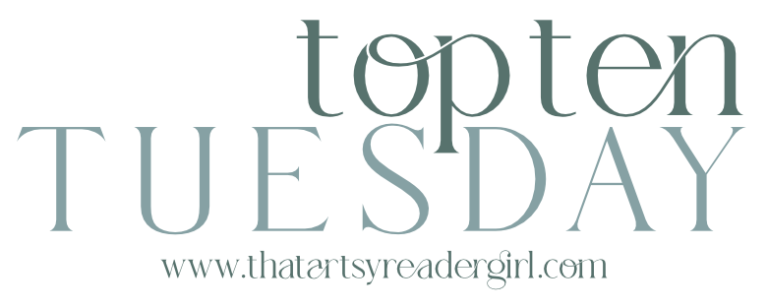 May 3: One-Word Reviews for the Last Ten Books I Read (submitted by Susan @ Bloggin' 'bout Books)
I'm adding a bit more to some of these, because sometimes you need more than one word!
One Word Review: Disappointing
More than one word: I didn't dislike this. I just wanted to like it more than I did. I actually liked his lists of comfort songs and movies, and his little chapters about inspirational people a lot. But a lot of it felt repetitious.
Truly Madly Guilty by Liane Moriarty
One Word Review: Underwhelimg
More than one word: I enjoyed the book, but everything built toward learning what happened about a barbeque (the first half of the book is alternating lead up and aftermath) and when we finally learned what happened, it wasn't exactly earth shattering. I mean it was for the characters, I'm sure, but not for the reader.
The Southern Book Club's Guide to Slaying Vampires by Grady Henrix
One Word Review: Ick
More than one word: I actually liked this book. It was definitely gorier than I like (hence the one word review) but in spite of that, I enjoyed most of it enough to want to read more from the author.
Clap When You Land by Elizabeth Acevado
One Word Review: Fine
More than one word: I think "fine" sums it up. I was a bit disappointed because I thought Acevedo's debut, The Poet X, was more than fine, but this was pretty good.
Dancing on Knives by Kate Forsyth
One Word Review: Slow
More than one word: I don't mean "slow" in a bad way. I thought the pace suited the story well. I took it's time to get where it was going, but it worked.
A Spindle Splintered by Alix E Harrow
One Word Review: Substandard
More than one word: After loving Harrow's two full length novels, I didn't think that this novella quite lived up to them. It wasn't bad, it just wasn't as good as I felt like it could have been. I'll still read the sequel though.
The Signalman by Charles Dickens
One Word Review: Creepy
More than one word: I've been trying to read some Victorian Christmas ghost stories this year, so this was one of those. I enjoyed it, in that it kind of made the hairs on the back of my neck stand up a bit (my measure of a good ghost story) It definitely felt like a short story, rather than something like A Christmas Carol which is more novella territory.
Comfort Me With Apples by Catherynne M. Valente
One Word Review: Weird
More than one word: I really liked this. I wasn't sure what it was going into it. I couldn't tell if it was intended to be a retelling, and one of the reviews I read said the less you know going in the better, so after reading that, I stopped looking. I'm glad I did because it let me fully appreciate what Valente was doing as this unfolded.
Within These Wicked Walls by Lauren Blackwood
One Word Review: Unheroic
More than one word: I wanted to like this one more than I was able to. The biggest problem for me was the character who was supposed to fill the romantic hero role, was totally unappealing, unlikeable and unheroic.
The Dragonfly Pool by Eva Ibbotson
One Word Review: Letdown
More than one word: Anyone who reads my blog knows how much I love Eva Ibbotson. This wasn't my favorite of her books. Not that it was bad at all! I think my expectations may have been too high based on my love for the author, but it felt like it tried to do a bit too much.