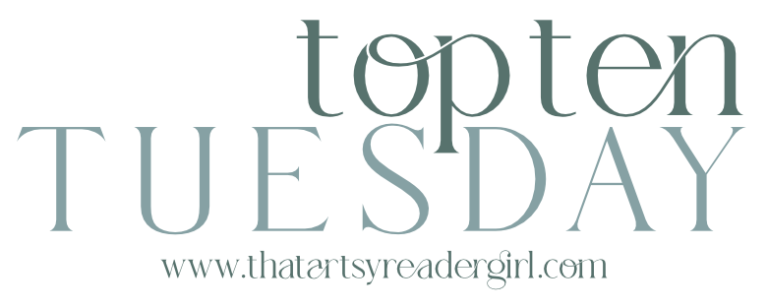 For That Artsy Reader Girl's Top Ten Tuesday:
October 25: Halloween Freebie
I recently read Dead Blondes and Bad Mothers, which dealt a lot with the ideas of monsters and their parents. The book was concerned with mothers as a feminist concept, but for the purpose of this list, I'm considering any creator of a monster as that monster's "mother."
Frankenstein by Mary Shelly – At this point it's pretty common knowledge that a) "Frankenstein" is the name of the creator rather than the monster and that b) the creator may just be the real monster. All of that is true. But I think the central question here is whether Victor was more wrong for taking the powers of life and death into his own hands, or because he abandoned any responsibility for his creation immediately after her brought it to life?
The Stranger Case of Dr. Jekyll and Mr. Hyde by Robert Louis – This is an interesting case because the creator and the monster are the same person. Everything in Mr. Hyde was in Dr. Jekyll all along. The Hyde part of his personality was kept in check by the better parts of Jekyll's nature. By trying to separate the two, he unintentionally took away that check and set Hyde free on the world.
We Need to Talk About Kevin by Lionel Schriver – What Kevin does is monstrous. There's no question about that. In this case the question is where the blame for the monster's action lies. Eva didn't want to be a mother, and struggled to connect to her son. Did she sense some evil in him and shy away from him? Or did he go wrong because of his distant mother? And what role does his father play in his crimes? Even though the focus of this novel is on the mother/son dynamic, Kevin's father is unable to see Kevin as anything other than perfect, regardless of what he does. How much is this to blame?
Great Expectations by Charles Dickens – We don't usually think of this as a story of monsters, but go with me on this one: Miss Havisham is a Frankenstein figure. She wants revenge on men, so she "creates" Estella as a weapon against them. In doing so, she not only punishes Pip who had nothing to do with what her fiancé did years earlier, but she also hurts Estella who isn't able have normal relationships.
The Golem and the Jinni by Helene Wracker – Chava is very much a created creature: born of clay and Kabbalistic magic. Ahmed is born of the desert, but is in some way created when he's trapped in a copper flask by a wizard. That experience creates him. Yet in another way, their creators are really their experiences in life (or whatever the equivalent is for magical creatures). This is about what happens when they meet in New York at the turn of the twentieth century.
The Strange Case of the Alchemist's Daughter by Theodora Goss – This is a mash-up where Mary Jekyll meets Hyde's daughter, Diana, as well as Beatrice Rappaccini, Catherine Moreau and Justine Frankenstein. Together with Sherlock and Watson they take on a secret society. I read this years ago, before the rest of the series was available. Now that all three books are released, I need to give the first a reread before I read the others.
Rappaccini's Daughter by Nathanial Hawthorne – Read this if you want to know more about Beatrice Rappaccini. This is actually a short story. It's one of those things that's a great story, but I find the prose rather cumbersome. It's definitely worth a read though.
Dollanganger series by VC Andrews -This series is essentially about generation after generation of monsters creating more monsters. And while these books are not great literature by any stretch of the imagination, these inevitable, destructive family patterns are absolutely terrifying in their own way. Just a note, I can only attest to the first five books in the series that Andrews wrote herself (well, the fifth was finished by the ghost writer), the rest of the books were the work of ghost writer Andrew Neiderman.
Carrie by Stephen King – Once again the "monster's" mother may be the real monster. Or a real monster anyway. We could also argue that Carrie's "creators" may also be the peers who repeatedly humiliate Carrie eventually push her to a place where mass telekinetic murder seemed like a good option.
The Island of Doctor Moreau by HG Wells – Truthfully I don't really have strong feelings about this book, but no list of monsters and creators would be complete without it!
In conclusion, monsters rarely act alone!