For That Artsy Reader Girl's Top Ten Tuesday: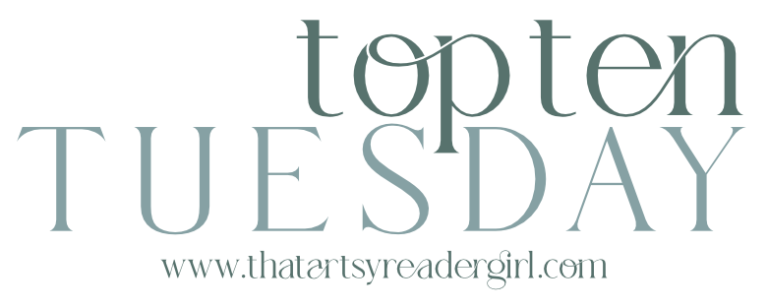 Today's topic was:
December 20: Books I Hope Santa Brings This Year
But rather than make another wish list (which could get very long!) I decided to do my own thing with a totally random idea I had one day. These are all books featuring either a dead protagonist, significant numbers of dead characters, an afterlife, and/or a personification of death. Yes, maybe the idea is a bit morbid, but I decided to go with it!
Lincoln in the Bardo by George Saunders – This was probably one of the weirder books I've ever read! In 1862, President Lincoln's son, Willie died at the age of eleven. Newspapers reported that the president was grief stricken, returning to his son's tomb several times to hold his body. That much is true. But in the book, Willie is in a sort of midpoint between life and death, amidst a number of other ghosts, each with their own arguments, regrets, penances, and gripes. None are able to give up their earthly lives completely. Will Willie Lincoln join them, or move on to whatever comes next? And will his father be able to put his grief aside and do what needs to be done?
The Lovely Bones by Alice Sebold – I actually didn't like this book as much as a lot of other people seemed to. That said, I think if it had had less advance hype I would have enjoyed it a lot more. Fourteen year old Susie is raped and murdered by her neighbor on her way home from school one day. From heaven, she watches over her grieving family and friends, the detective trying to solve her murder, and her murderer, himself. One thing I liked about this book was everyone getting their own version of heaven. Susie's is sort of an idealized high school with none of the bad stuff!
A Certain Slant of Light by Laura Whitcomb – Helen died 130 years ago, but isn't able to enter heaven because she carried guilt with her at death. She attaches herself to human hosts to sustain her spirit. Her most recent host is a high school English teacher. Sitting through his classes one day, she realizes that one of his students, is a spirit also. But James doesn't attach to a host the way she does. He actually possess the body of one of the teacher's students. He shows Helen how to inhabit a body too, and Helen and James fall in love. But they must reckon with their own lives and pasts, as well as those of their host bodies. Billy and Jenny. This has a sequel, Under the Light, which I haven't read yet. I'll have to reread this one before I can read that one though.
The Graveyard Book by Neil Gaiman- Technically, the main character of this book, Bod, is alive. But everyone else is dead! Bod was raised in a graveyard by ghosts (and a werewolf a vampire, and various other supernatural beings) following the murder of his family. It's one of my favorite books by Gaiman (who I tend to have mixed reactions to) because as weird as it is, it also has a lot of heart. It was inspired by The Jungle Book, and it's sort of a weird twist on the idea.
Passage by Connie Willis – I'm going to try to write about this without spoilers! It's about a psychologist who volunteers for a project that simulates NDEs (Near Death Experiences). Her NDE has a sense of deja vu to it, and each time she goes under, she has a sense that something terrible is coming. And that's about as much as I can say without spoilers! Mostly this book is filed under the heading "weird" in my brain.
The Returned by Jason Mott – Harold and Lucille's son, Jacob, died in 1966. Many years later, he shows up on their doorstep, the same age he was when he died. He's not the only one. All over the world people are coming back from the dead, unchanged. This was made into a TV series called Resurrection, because there was a series called The Returned, with a very similar premise that came out near the same time.
Neverworld Wake by Marisha Pessl – A year ago, Beatrice's boyfriend died and she left her boarding school and friends in the shadow of that tragedy. When they reunite, Beatrice and her friends get into a car accident. Fortunately no one is hurt. Or so they think. When they get home, a stranger arrives at the door and tells them they died in the crash. Only one survived. Now they're in Neverworld Wake, sort of a halfway station, where they have to decide who the survivor of the crash was. Until there is a unanimous decision, they will be trapped, reliving the day of the accident again and again. The friend group soon realizes that their possible redemption lies with the truth about what happened to Beatrice's boyfriend a year earlier. I really liked this one.
Warm Bodies by Isaac Marion –  R is a zombie. He and his friend M spend most of their time shuffling around and eating brains. But when R eats a brain, he gets a bit of that person's memory. So when he eats the brain of zombie-killer Perry, he sees Perry's memories of his beloved Julie. For some inexplicable reason, R doesn't want to eat Julie. He cares for her… This is sort of a zombie version of Romeo and Juliet that wasn't bad, but I didn't read any of the rest of the series.
Remember Me by Christopher Pike – Shari wakes up in bed with no memory of going to sleep. The last thing she remembers is being out with friends. When she leaves her room her family ignores her. Then, there's a phone call from the hospital. No one will tell Shari what happened, so she goes with her family, and sees herself in the morgue. Even though her death is ruled a suicide, Shari knows she was murdered. She investigates her murder, visiting her friends in their dreams, while also facing a threat known as the Shadow. This is the start of a trilogy. I read it a million years ago, but I only remember reading the first book.
Saving Fish from Drowning by Amy Tan – Bibi Chen plans to lead a group of twelve friends from China to Myanmar. Unfortunately, she dies before that can happen. The group decides to go on the trip anyway though, and Bibi tags along in spirit form. Then, the group disappears. I think Amy Tan's fans are probably split on this book, since it's a departure from her usual work. But really liked it. I found it weird and funny.
The Book Thief by Markus Zusak – This one is narrated by Death himself. It's set in Nazi Germany, and is actually about a foster child names Liesel Meminger, who along with her foster father, saves/steals books from neighbors, graveyards and book burnings. She shares them with her neighbors and the Jewish man who lives hidden in her basement. Death (the narrator) distances himself from humanity for the sake of his own sanity, but Leisel breaks through his defenses, without even knowing it. I could go on about the narrative perspective in this, and whether the main character duties fall on Leisel, Death, or both. But it's definitely a unique, haunting look life and death, in all their forms.
Keturah and Lord Death by Martine Leavitt – I read this years ago, and I think I liked it, but I don't remember it too well. It's about a girl who charms Death with her storytelling abilities. He agrees to spare her from…well, death…. if she can find true love in the next 24 hours. It's sort of a gothic fairytale, and now that I'm writing about it, I'm thinking about rereading it…