For That Artsy Reader Girl's Top Ten Tuesday: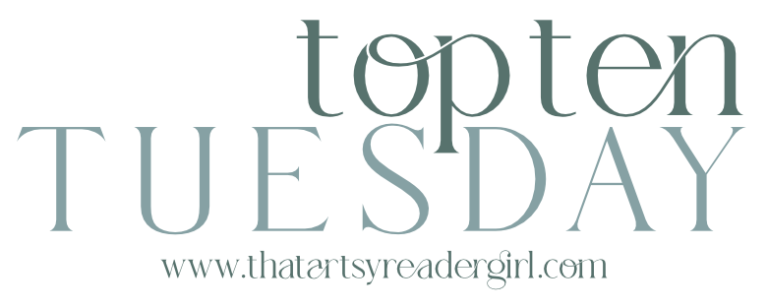 January 3: Favorite Books of 2022
Because I had a good year reading-wise I had to break this list into two part. This is part 2, and you can find part 1 here.
The Nature of Fragile Things by Susan Meissner – I read this toward the end of the year and it closed things off on a good note. Sophie Whalen is an Irish immigrant, so desperate to get out of her NYC tenement that she agrees to marry a stranger. Martin Hocking is a widower, looking for a wife to be a mother to his five year old daughter, Kat, and give his home the appearance of happiness and health. Even though she's put off by Martin's coldness, she loves Kat, and settles into their new home in San Francisco. One day, a strange woman comes to the door making a shocking revelation. Before Sophie can even process what's happened, the earth moves. Literally. In the wake of the San Francisco earthquake of 1906, Sophie must protect Kat and the stranger to whom she feels a responsibility to as well. She must find a way to get them to a place where they can all find answers.
House of Hollow by Krystal Sutherland – Ten years ago, Iris Hollow and her two older sisters disappeared from a Scottish street on New Year's Eve. One month later, they returned, changed, with no memory of what happened to them. Ten years later, when the oldest sister, Gray Hollow, disappears again, seventeen year old Iris, and the middle sister, Vivi, try to find out what happened to her. As Iris and Vivi investigate, they discover that Gray left clues, that tell a bizarre story that suggests they aren't the only ones looking for Gray. They also realize that the answer to the mystery of Gray's disappearance may tie in to whatever happened to them all ten years earlier. I rated this book four stars, but I think I would have given it five if the ending had been slightly different. I can't say more about that without spoilers though. It's a modern fairytale in the darkest sense: mysterious, confusing, and occasionally eerie and grim.
The Book of Cold Cases by Simone St. James – I often lament that Simone St. James doesn't still write the historical gothics she started with, even though I still enjoy her current stuff. But this takes all those fun gothic elements and puts them in a (mostly) contemporary setting. In 1977, two random men were murdered with the same gun and a note near the bodies. Beth Greer was accused of the murders but acquitted. Forty years later, Shea Collins, who runs a true crime website, meets Beth by chance and asks for an interview. When they meet at Beth's mansion for the interviews, Shea is immediately on alert. Something isn't right. Is Beth a murderer, a manipulator, or is story Beth tells of forty years earlier actually true? And is Shea safe in the Greer mansion long enough to find out?
Mrs. Palfrey at the Claremont by Elizabeth Taylor – The elderly Mrs. Palfrey arrives at the Claremont Hotel, where she will spend the rest of her life. She meets her fellow residents, all elderly people like herself, looking to end their lives in a generally pleasant environment. She's disappointed when her grandson, Desmond, who lives nearby doesn't visit. When Mrs. Palfrey strikes up a friendship with a young writer named Ludo, she tells a small fib to the residents of the Claremont. She says he's her grandson. And Ludo and Mrs. Palfrey each provide the other with something that the other needs in a number of ways. This has a film adaptation, which I enjoyed, but I didn't like that it felt the need to give it a contemporary setting. It also wasn't content, as Taylor was, to let things remain sort of ambiguous. Still as far as movie version go, it wasn't bad!
The House in the Cerulean Sea by TJ Klune – I went back and forth quite a bit about whether to include this one, for reasons described here. Those issues are why I gave this four stars rather than five, and why I can't quite recommend the book as wholeheartedly as I might otherwise. It's about Linus, a caseworker for the Department in Charge of Magical Youth, who is tasked with evaluating an orphanage for said youth. When he arrives at the orphanage, overseen by the mysterious Arthur Parnassus, he finds something he never imagined could exist. It's something that more beautiful than anything Linus has ever known, and something Arthur will do anything to protect. It's a shame that I know some of the problems I have with the premise, because it is a lovely story of found family, with humor, magic and danger.
Catherine, Called Birdy by Karen Cushman – This is an old favorite that I reread in anticipation of the the film adaptation, and enjoyed just as much as ever. Catherine feels trapped by the role and expectations of a fourteen year old girl in 1290. Her father wants her to marry anyone who can pay enough for her. She's pretty good at scaring off potential suitors but she's aware that this is a temporary solution. The book is a diary she keeps all year, and it turns out to be a very pivotal year in her life, in many ways. I liked the film too, and I discuss it a bit in comparison with the book here.
Thornyhold by Mary Stewart- Gilly Ramsey was a lonely child whose life was brightened by her cousins occasional visits. When her cousin dies, she leaves Gilly her cottage. Thornyhold comes with a black cat, a lot of herbs (though the recipe book is suspiciously absent), carrier pigeons (with secret messages), as well as some potential friendships and romance. It also reveals some secret gifts Gilly may possess. This is sort of a hybrid of gothic suspense, romance, and fantasy. It's what I'd call a slow, gentle, book thought. The stakes aren't really life and death, but that's a good thing because it's a sort of comforting experience to read.
The Once and Future Witches by Alix E. Harrow – While Harrow's debut novel The Ten Thousand Doors of January was a five star read for me last year, this was more like 4.5. But that's still pretty good! Set in an alternate 1893, there are no more witches. Since the burnings, witchcraft has been all but eradicated in the US. When the Eastwood sisters, each with their own pasts and baggage, join the women's suffrage movement, they discover a power that could turn the tide for witches and for women. My problems with this were more like slight quibbles than anything else really. For example, it didn't have to be as long as it was. But it's definitely worth a read. I'm just now realizing that a lot of witch books make up my "favorites" for last year!
Survive the Night by Riley Sager – This book is set in 1991. That turns out to be a very important detail here, because there were no cell phones. If there were, this would have been a very short (fairly dull) book! Charlie is a college student sharing a car with someone she met on a ride share board. She's looking to go home to Ohio after the murder of her roommate and BFF at the hands of the Campus Killer. Josh, the guy she's riding with, wants to get home to see his sick father. But as they drive, bits of Josh's story don't add up. And why won't he let her see what's in the trunk? As they head into isolated territory, Charlie begins to suspect she's in the car with a killer. But the truth is more involved than she ever imagined. I thought this would be a standard cat and mouse thriller. It definitely was that, but it also had some twists and turns I didn't expect. I had a quibble with the ending which knocked down the rating, but didn't interfere with my enjoyment. It's not great literature but it doesn't try to be. I ran through this in about a day.
Have you ever read any of these? What did you think?