For That Artsy Reader Girl's Top Ten Tuesday: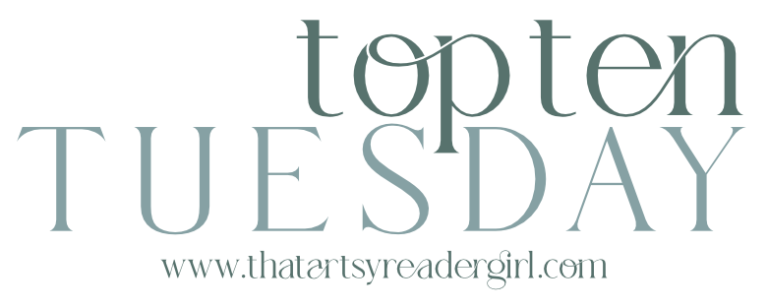 I got confused with my TTTs last week and did this week's topic:
September 13: Books with Geographical Terms in the Title (for example: mountain, island, latitude/longitude, ash, bay, beach, border, canyon, cape, city, cliff, coast, country, desert, epicenter, hamlet, highway, jungle, ocean, park, sea, shore, tide, valley, etc. For a great list, click here!) (Submitted by Lisa of Hopewell)
So for this week I decided to go my own way and do another school focused list, because I do love a school setting. I particularly love it when there are secrets beneath the surface…. I did a list like this a while ago, but I figure there's always room for more:
Picnic at Hanging Rock by Joan Lindsay – I've long since admired the film adaptation of this book, but I only read the novel last year. Set in Australia in 1900, a group of students and several teachers at a girl's boarding school go on a picnic at the nearby Hanging Rock. After lunch three girls took a short walk and never returned. Obviously the primary mystery is what happened to the girls, but we soon realize that there is a lot happening beneath the surface at this school. One thing I found interesting is that we tend to associate Gothic with windy, rainy English moors. Here a lot of the tropes and themes that we associate Gothic literature (atmosphere of dread, isolated setting, secrets) take place in a warm, sun soaked setting that soon becomes as ominous as any creepy English mansion.
Hangsaman by Shirley Jackson – Natalie can't wait to go to college and get away from her abusive father and alcoholic mother. But when she gets there college life isn't what she expected. As her sense of reality begins to fracture, Natalie makes a new friend… That's the best way I can think of to summarize this book, because not much really happens here. I'm a fan of Jackson, and I admire some of what she did here, but it's not what I'd call her best work. I didn't know this at the time I read it, but Jackson loosely based this on the disappearance of a real life student at Bennington in 1946.
Ninth House by Leigh Bardugo – As a teen, Alex Stern was the only survivor of a multiple homicide involving her and her druggie friends. In the hospital she's offered a new start: a free ride to Yale in exchange for a job monitoring the university's secret societies. These societies practice some dangerous magic, and if their activities aren't kept under control, innocent people may suffer the consequences. Everyone said this was a "love it or hate it," but I liked it. I was intrigued enough so that I'll read the sequel, but I'm not totally hooked yet.
The Maidens by Alex Michaelides – When Mariana Andros' niece's friend is found murdered, Mariana heads to Cambridge to help Zoe through the aftermath. She learns that Zoe's friend was a Maiden, a student of Edward Fosca, a charismatic professor of Greek tragedy. She's sure that Fosca killed Zoe, but she can't prove it. Her obsession with trying brings her deeper into Fosca's dark world. I read this one in about two days and I really enjoyed it as I was reading it. I didn't predict the ending, but I was left rather underwhelmed by it nevertheless.
Catherine House by Elisabeth Thomas – When students are accepted to Catherine House they are given an education for free. In return, they need to pledge three years (summers included) to the institution. During that time they are completely cut off from the outside world, including friends and family. After the death of her roommate, student Ines begins to suspect that the school has been hiding something dangerous that is preying on its students. I was dragging myself through much of the early parts, but as things were revealed I was more intrigued. However I felt like the reveal was rushed and glossed over.
Bunny by Mona Awad – Samantha is an outsider at her creative writing program. The others in her cohort are twee rich girls who call each other "Bunny." Samantha wants nothing to do with them. But when they accept her into their group, Samantha's world, and her sense of reality, begin to fall apart. Sometimes you read a book that just makes you shake your head and go "WTF?" This was such a book.
Neverworld Wake by Marisha Pessl – A year ago, Beatrice's boyfriend died and she left her boarding school and friends in the shadow of that tragedy. When they reunite a year later, Beatrice and her friends get into a car accident. Fortunately no one is hurt. Or so they think. When they get home, a stranger arrives at the door and tells them they died in the crash. Only one survived. Now they're in Neverworld Wake, sort of a halfway station, where they have to decide who the survivor of the crash was. Until there is a unanimous decision, they will be trapped, reliving the day of the accident again and again. The friend group soon realizes that their possible redemption lies with the truth about what happened to Beatrice's boyfriend a year earlier. I really liked this one.
The Fairwick Chronicles by Juliet Dark (AKA Carol Goodman) – Callie McFay is a professor of folklore. She takes a job at Fairwick College where she has dreams of a handsome stranger. She comes to realize it's the demon lover, her area of folkloric interest. She also discovers that it's the only supernatural being at Fairwick, which, as the name suggests is a community of fairies and witches, who must help her cast out the demon. These were enjoyable but I don't know if a trilogy was necessary. By the third book some elements felt a bit repetitive.
One of Us is Lying by Karen M. McManus – This is a bit like The Breakfast Club gone horribly wrong! Six teen stereotypes have detention one afternoon. Bronwyn is the brain, Addy is the beauty, Nate is the criminal, Cooper is the jock. Simon is the campus gossip columnist, whose app, About This, is notorious on campus. By the end of the afternoon, Simon is dead. The police suspect it might not be an accident, and when damaging information about the other kids in detention is revealed on About This soon after, it looks like everyone might have a motive. This was sort of the literary equivalent of candy. It was an enjoyable guilty pleasure, but no nutritional value.
Survive the Night by Riley Sager – It's 1991. Charlie is devastated after the murder of her best friend and roommate at the hands of a serial killer know, rather uncreatively, as the Campus Killer. Charlie wants to get away from campus. She finds a ride back to her Ohio home via a ride share board. Josh is also headed to Ohio to care for his sick father. But as they drive down secluded roads late into the night, Charlie begins to suspect that Josh might be the Campus Killer. This was a fast, diverting read. Nothing brilliant, but it's not really trying to be.