For That Artsy Reader Girl's Top Ten Tuesday: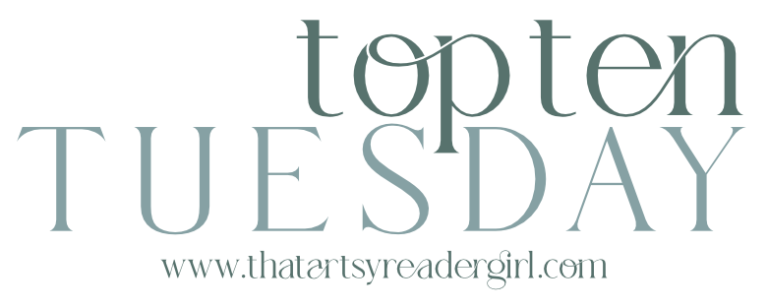 Todays prompt is:
January 10: Most Anticipated Books Releasing in the First Half of 2023
But since I'm trying to read what I have and NOT to make a million more TBRs, I decided to do my own thing. Since we're starting a new year, and looking ahead, I'll share some books set on/near New Year's, or that have significant New Year's scenes.
Oona Out of Order by Margarita Montimore – New Year's Eve 1982. The title character is set to turn 19 at the stroke of midnight. She faces some big decisions in the year ahead. But as the countdown to the New Year begins, Oona faints. When she wakes up, it's 32 years in the future, and Oona is 51 years old physically (mentally she's still 19). She is greeted by a stranger who tells her that for the rest of her life, she will leap to another age at random. So from 19 she leaped to 51. From 51 she might leap to 25… Oona tries to build a life given her "condition." There are perks and drawbacks and we watch Oona grow up (and down, and up again) on the outside, while developing normally on the inside.
Bridget Jones' Diary by Helen Fielding – This book opens on a New Year, when the title character decides to make some resolutions. These include, but are not limited to:
develop a functional, adult relationship
go to the gym 3x a week
learn to program the VCR
keep a diary all year
Some of these resolutions are more successful than others naturally!
A Long Way Down by Nick Hornby – Four people meet one New Year's Eve at a popular London spot for suicides. They all have the same plan for midnight. In four alternating first person perspectives, we get to know who these people are, and why they got to this point. Once they all meet, they end up sharing their stories and agreeing to postpone mortality (at least temporarily) to help each other.
White Teeth by Zadie Smith – This starts on New Year's Day in 1975 and circles around to another New Year's later on in the book. At the beginning, Archie, who'd planned to start the New Year with his suicide, ends up at a New Year's party instead. At this party, he meets his future wife. The book itself is actually more about his friendship with fellow WWII vet, Samad Iqubal, but New Year's party, and the resulting marriage, definitely set Archie's life on a different path.
Middlemarch by George Eliot – This novel begins on New Year's Eve, at a party given by the Vincys. It seems cheerful but there are a lot of tensions under the surface. Rosamund's husband bores her. Mr. Lydgate has money problems. Mr. Farebrother is flirting with Mary, which makes Fred jealous. We get to know these people and their various problems big and small over the course of the novel.
Sir Gawain and the Green Knight – While the knights of Camelot are having a New Year's feast, a gigantic green knight shows up. Gawain wins a fight with him, but the knight tells Gawain that he will return next New Year's to take his revenge. Not the most promising start to a year…
Mixed Doubles by Jill Mansell – One New Year's Eve, three friends are sharing their resolutions. Liza wants to get married this year. Pru wants to stay married, and Dulcie wants a divorce. Over the course of the next year, best laid plans will naturally go awry. Things get even crazier when the characters try to help each other.
Baby-Sitters Little Sister: Karen's New Year by Ann M. Martin – When I was about seven years old, I thought that Karen Brewer was a kindred spirit. Case in point: on New Year's Eve, Karen encourages her friends and family to make resolutions. Karen joins in, making a number of resolutions herself. To help make sure people are doing what they should, Karen takes up spying on them. Surprisingly, Karen's nearest and dearest don't appreciate this! They spy on her in return…
Fear Street Superchillers: The New Year's Party by RL Stine – Another nostalgic New Year's book, this one that actually begins at a Christmas party. A prank turns fatal when it turns out that the intended target had a heart problem. Naturally, the pranksters decide to hide the body and swear secrecy (because is there another way to handle it?). But then the body they've hidden disappears. In the lead up to the New Year, the pranksters start to die, one by one.
Happy reading in 2023 everyone!