For That Artsy Reader Girl's Top Ten Tuesday: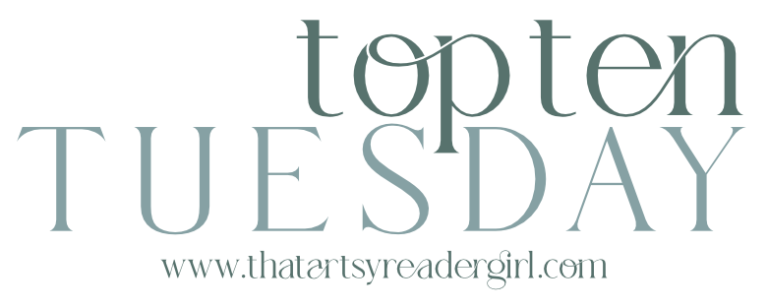 November 22: Thankful Freebie
If I had to choose what I'm most thankful for, it would definitely be the people I love. So this list celebrates friends, family, and friends that are like family.
My Family and Other Animals by Gerald Durrell – During lockdown, the TV show The Durrells in Corfu (or just The Durrells, depending on where you live) was wonderful comfort food for me, so I picked up one of the books by Gerald Durrell, the youngest child in the family. Like the show it was lovely and comforting. Interesting note: two others became writers as well. The oldest, Laurence Durrell is the author of a number of novels, and one of the middle children, Margo, is the author of a memoir.
Eleanor Oliphant is Completely Fine by Gail Honeyman – First thing to note is that the family in this book is very dysfunctional! This actually gets pretty dark at some points, but I think the takeaway is ultimately about the transformative power of friendship (even if we think we don't need it), and that's a positive we're left with after the tough stuff.
Little Women by Louisa May Alcott – Yes, there is some darkness and sadness here too. But seeing people get through hard times with the help of loved ones helps me feel better about my own tough times. At different points in my life I've related to most to different March sisters, but I've "known" them all for so long that they all feel a bit like family to me!
A Little Life by Hana Yanagihara – I'm hesitant to include this here, because it is so dark and disturbing. If you have any issues around abuse, self-harming, sexual assault, drug use, or a host of other things, be warned! But the depiction of found family in this book is very beautiful. The book asks if that kind of tight knit bond can buffer someone against years of trauma. The answers are always comfortable, but I think at the end we're still left with something beautiful.
The Joy Luck Club by Amy Tan – This book incorporates family, but also strong, tight friendships that last for over forty years, from one generation to the next. It's these friendships that help the main character of this novel better understand her mother (with whom she's had issues in the past). I love that the lines between "friend" and "family" in this book are so indistinct.
Pride and Prejudice by Jane Austen – Yes, some of the Bennetts are easy to mock. But I do think that Mrs. B gets kind of a bad rap. As ridiculous as she seems, her family has a very real problem. Five girls and no son to inherit means that they're all homeless when Mr. B dies, unless the girls get married before then. Even though Mr. B doesn't seem to want to deal with this, the family still pulls together in a crisis. They still support one another and celebrate with each other. While Lizzie is closer to some family members over others, she cares for them all very deeply.
I Capture the Castle by Dodie Smith – You have to love the Mortmains! They live at a strange point somewhere between rich and poor (they live in a castle with servants but don't always have enough to eat.) and definitely crazy, but loving nonetheless. When their family comes into contact with another family, everything is thrown into flux.
The House in the Cerulean Sea by TJ Klune – This is another book I had reservations about including on this list, for the reasons described here. But in spite of those reservations, this book does have a beautiful depiction of a rather unusual found family.
The Immortalists by Chloe Benjamin – A fortune teller tells the four siblings the dates of their deaths. As they move forward with those dates in their minds, they must figure out how to balance their family bonds and obligations with their desire to avoid that predicted ending.
Commonwealth by Ann Patchett – This is the story of a blended family over the course of several decades. Six children (siblings and step-siblings) spend the summers together and form a family bond. When they grow up, one of the kids writes a book about their family, which forces them all into uncomfortable positions. I like that this book depicts stepfamilies in a way that's not positive or negative per se. Like any other family it has its pluses and its minuses.
My Sister the Serial Killer by Oyinkan Braithwaite – Korede's sister, Ayoola, is… difficult to say the least! But I found Korede's devotion to her kind of moving, albeit morally questionable. What are the limits we go to to protect family? What factors influence that decision. The is a satirical novel, that poses some interesting questions