For That Artsy Reader Girl's Top Ten Tuesday: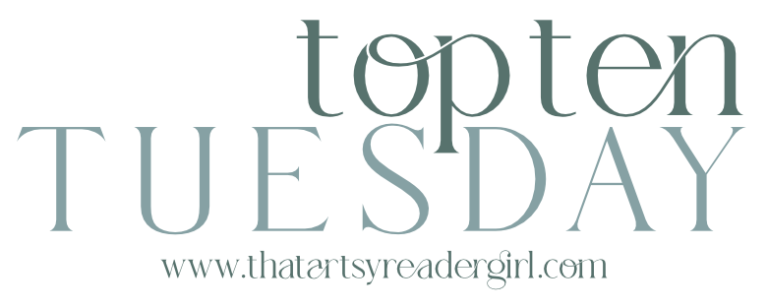 For this one the topic was:
June 14: Books I Wish Had An Epilogue
But I went with just best epilogues and endings. Basically, there were some that I wasn't sure were epilogues or not! Warning for SPOILERS here:
The Handmaid's Tale by Margaret Atwood – I think of this as "how to do an epilogue properly." It's set 200 years after the events of the story and is narrated by a historian who found and transcribed it. It gives us a glimpse of the world after it changes from what Offred knows. It reminds us how civilizations rise and fall.
And then There Were None by Agatha Christie – The epilogue moves this book from the "frustrating" to "satisfying" category. Basically, this is where we learn whodunnit and why.
Harry Potter and the Deathly Hallows by JK Rowling – People seem divided into those who like this epilogue and those who don't. I do, because we learn in it that Harry's son is named Albus Severus Potter. In other words his initials spell ASP. Snakes are usually significant in the Harry Potter universe and don't usually mean good things are coming. On an entirely different note, it's always nice to get a "where are they now."
A Breath of Snow and Ashes by Diana Gabaldon – For three books a threat loomed over the heads of these characters. A character from the future had learned something bad happens to them, and warned them. It doesn't play out in the way we expect though. In the epilogue we learn why. It's a reminder of how historical record often gets things wrong, and no one ever knows.
Animal Farm by George Orwell – This allegorical novel depicts an animal revolution against humans on a farm, led by pigs. As time goes on the pigs create laws that oppress the other animals, until the end, when the pigs are sitting at table talking to the humans, and it's hard to tell which is which. Because with power we can become our enemies.
My Sister's Keeper by Jodi Picoult – This is another "love it or hate it" ending. I loved it, because it went against everything we've expected all along. People who dislike this ending call it a deus ex machina. Which it is, but it's done in a thought provoking way. The film adaptation changed this to the ending that felt expected which (I thought) missed the whole point.
Atonement by Ian McEwan – It's almost impossible to discuss this ending without major spoilers. The book finishes off with an ending that feels conclusive and then there's "just kidding!" that totally makes sense given character and circumstances. I often feel like those kinds of endings are cop outs, but in this situation it was done right.
The Last Time They Met by Anita Shreve – This has a tie-in to another of Shreve's books, The Weight of Water. All through this book, I thought that a character was lying about something mentioned in The Weight of Water. It turned out to be true.
Wuthering Heights by Emily Bronte – This is probably another unpopular choice. A lot of people feel like the second half of the book is a let down after the first, and movies frequently end the adaptation after the first half! But I think the second half brings everything full circle. Without it, the narrative lacks balance. I wish there was a less boring word than "symmetry" to describe what I mean!