I've always loved Halloween. As a kid, I was hardly alone in that love. With it's custom blend of fantasy, make-believe, and candy, it's a holiday that seems tailor made for the young.
But I took it more seriously than most kids. I started planning costumes months in advance (literally, months- I would come up with costume ideas all year round and then have to wait until Halloween to use them). Then, around mid-September I'd start thinking about the logistics of costumes. For example, the year I tried to be Ariel from The Little Mermaid I was presented with several problems. One was that I would have to walk around in a more modest version of Ariel's shell bra. Even though the costume had significantly more coverage than the movie version did, my parents didn't think it wise for me to walk around with no sleeves and a bare midriff on a chilly October evening. That was solved by a flesh colored shirt worn underneath. But then came the challenge of walking around in fins. My tail had an opening at the bottom for my legs, but it wasn't wide enough for me to take more than mini-steps, so it had to be expanded slightly. Such alterations and decisions required a lot of time and thought.
My Halloween seriousness wasn't just limited to costumes. I used to plan my trick-or-treating route. I knew what houses had the best candy, and where to go for "filler" items. I knew there was a limited amount of time for trick-or-treating: eventually my mom would say it's getting late and we should go home. So I wanted to hit the best houses in the shortest amount of time. In between, of course, I'd stop at all the other houses. I wasn't one to turn up my nose at any candy!
But like all children, I eventually grew up. I didn't grow out of Halloween though. I'm not much of a party girl, and since my friends in college weren't big party animals either, we'd rent a bunch of Halloweeny movies, stock up on candy and make it a movie night. It was more fun then it sounds. So I've sort of maintained the tradition into adulthood. It's not as much fun as it was in college, since I don't usually have a group of friends who can easily come over and join me (one of the advantages of dorm living is that everyone is a few doors away!) and I'm more health conscious so I don't let myself have quite so much candy.
I do save seasonal films to see, books to read and TV shows to binge. Here's some recommended Halloween media. Just note that while I like "spooky" and "creepy": I'm not a fan of horror per se. I don't like blood and guts. I also (for the most part) left off stuff that's aimed primarily at kids. There's some good stuff there, but it's a whole nother list!
Books
Something Wicked This Way Comes by Ray Bradbury– This is a very seasonally appropriate book. It feels like fall. Actually I think I'd call the story more "dark fantasy" than "horror." But I suppose it depends on one's scare threshold. I have some issues with the florid writing in this one. It's appropriate in some places, but in others I think it slows things down. Still definitely worth reading though.
We Have Always Live In the Castle and The Haunting of Hill House and The Lottery and Other Stories by Shirley Jackson– It's hard to go too wrong with Shirley Jackson for Halloween! I think We Have Always Lived in the Castle is the most Halloweeny, but it's a close race.
The Birds and Other Stories, Don't Look Now: Selected Stories of Daphne DuMaurier, and Rebecca by Daphne DuMaurier- A lot (but not all) of DuMaurier's work is Halloween appropriate. I think you can make the argument that Jamaica Inn and My Cousin Rachel deserve a place on this list as well.
The Other by Thomas Tryon– I didn't like this one at first but by midpoint it was hard to put down! Some of the twists I saw coming but others took me by surprise. Tryon's novel Harvest Home is also Halloweeny, but I didn't like it as much.
The House of Leaves by Mark Z. Danielewski- This is a haunted house story meets psychological thriller that takes place over several layers and incorporates different forms of text within a text. I didn't include music on this list, but the author's sister is singer-songwriter, Poe, who put out an album called Haunted that contained several songs connected to/about the novel.
Night Film by Marisha Pessl- Like The House of Leaves, this book plays with form. It incorporates photographs, documents, and there's an app you can download to access bonus content. But more importantly, it tells a creepily compelling story with elements of murder mystery and supernatural.
Hallowe'en Party by Agatha Christie– If you love Agatha Christie, Poirot's investigation of a deadly Halloween party is a seasonal must.
Practical Magic by Alice Hoffman- The first in a series, and I'd recommend starting here. It's good if you want Halloween and witches without being too scary.
The Little Stranger by Sarah Waters– I'd recommend this to readers who appreciate atmosphere and ambiguity.
Ghost Story by Peter Straub– Just what it sounds like! It has one of my favorite ghost story beginnings: "What's the worst thing you've ever done?" "I won't tell you that, but I'll tell you the worst thing that ever happened to me—the most dreadful thing . . ."
The Thirteenth Tale by Diane Setterfield- This is a ghost story, but in an unexpected way.
The Woman in Black by Susan Hill– Another creepy British ghost story (gotta love them!)
TV
The Haunting of Hill House– This Netflix miniseries is inspired by Shirley Jackson's novel of the same name, but it's not really an adaptation.
The Haunting of Bly Manor- This miniseries was the work of the same team as the above, but deals with a different story and characters. This one is inspired by Henry James' The Turn of the Screw, but again it's not an adaptation per se. I didn't care for the team's third outing, Midnight Mass (perhaps because it's doesn't have a clear literary inspiration?)
Locke and Key– This series is based on a series of graphic novels which I haven't read. Apparently they're darker than the Netflix series. In TV form this plays sort of like Narnia meets The Haunting of Hill House. It's fun, a little creepy, but nothing too intense. I didn't like the second season as much as I liked the first, but it was still fun.
Being Human (UK) This show about a ghost, a vampire and a werewolf who live together, was a total guilty pleasure for me. I didn't particularly care for the American version though.
A Discovery of Witches- This is another TV series is based on a book series (also fun) that blends supernatural creatures. The biggies in this one are vampires, witches and demons, but there's also some other weirdness.
Salem– This is sort of semi-inspired by the idea of the Salem witch hunts, but that's about all it has in common with reality. There are plenty of witches, demons, and supernatural creatures here.
The Chilling Adventures of Sabrina– When I was a kid I loved the old TV show. I like this one too, in a different way. Literary and musical theatre references abound, which makes it fun for me.
Stranger Things- If you've been living under a rock, and missed this supernatural, 80's set series, Halloween is the perfect time to binge.
Film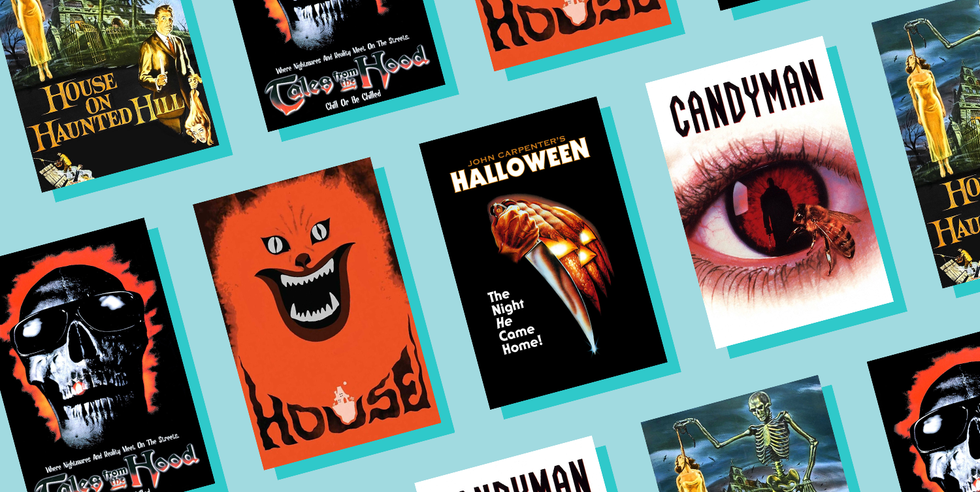 Hocus Pocus– A childhood seasonal favorite. It's got a few moments that may creep the little ones a bit, but it's mostly just funny and fun for the whole family.
The Addams Family and The Addams Family Values- Some more Halloween comedy classics!
Practical Magic– If you're more into romcom and less into scary
The Changeling– A haunted house mystery that's both sad and creepy.
The Other This is based on Tryon's novel of the same name, listed above. It's a pretty good adaptation, but the book is better.
Don't Look Now– Based on Daphne DuMaurier's novella of the same name (listed above).
The Others– A very gothic, Halloweeny haunted house story. It's a favorite of mine in the genre.
Burnt Offerings– Another underrated haunted house
Sleepy Hollow– The classic legend gets the Tim Burton treatment. It's just a fun movie.
The Woman in Black – Based on the book listed above. The 2012 film is good, but if you can find the lesser known 1989 film, I like that better. But I only saw that one once, a long time ago.
Poltergeist– I saw this movie for the first time when I was about 9 years old (don't know how that happened) but needless to say it terrified me. I saw it again a few years ago. I found it less terrifying, but otherwise it holds up pretty well.
Workouts Yes this is sort of an unexpected category, but I saw a few fun Halloween workouts out there, so I figured "why not?"
Up To the Beat Fitness – 30 Minute Halloween Dance Party
Lucy Wyndham- Read- Halloween Workout
Were you're favorites not listed? I could have listed more, but the post was already getting long! Maybe I'll do an update next year. Let me know what you think!
Wishing everyone a happy and safe Halloween