For That Artsy Reader Girl's Top Ten Tuesday:
Posting a bit late today, but it's still Tuesday!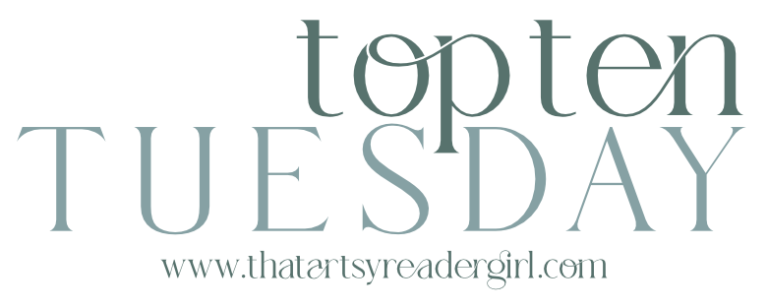 Today's topic was:
August 9: Hilarious Book Titles
But I decided to just skip the titles and go with some funny books all around. I know I've done lists like this before, but laughs are always needed!
Lud-In-The-Mist by Hope Mirrlees -This was a recent read that I enjoyed more than I expected to (fair warning, the first two chapters aren't promising, but stick with it!) It's sort of a fantasy/sociopolitical satire/courtroom dramedy.
Several People Are Typing by Calvin Kasulke – This novel is written all in Slack messages. It's hard to explain, but it's about a guy working from home who accidentally uploads his consciousness into Slack. I didn't love the book overall, but it did have some amusing parts that made me chuckle.
Enough Rope by Dorothy Parker – I think that "sardonic" would be the best word to describe Parker's wit. But there's a bit of real sadness beneath it too. I think that's what makes her poetry effective. It marries cynicism with genuine feeling
To Say Nothing of the Dog by Connie Willis – This had been on my TBR for years and I finally got to it this year. It was worth they wait, not only for the SFF plot but also as romantic romp. It's sort of a comedy of errors involving timeline disruption, a cat, and (of course) a dog.
Crazy Salad by Nora Ephron – Some of these essays do occasionally come off as rather dated. But they were written in the 1970's so that's somewhat expected (and humor aside, it's interesting to get her impressions of the era's feminism). Steve Martin's intro is also good for a laugh!
Let Me Tell You: New Stories, Essays and Other Writings by Shirley Jackson – Before reading this, I mostly knew Jackson as a horror writer (though I'd argue there's certainly dark humor in something like We Have Always Live in the Castle) but when I read some of this I was surprised to laugh out loud at times. Her writing about her family life and her small town are really funny.
Is Everyone Hanging Out Without Me (And Other Concerns) by Mindy Kaling – Yes it's another series of essays by someone in Hollywood, but I felt like this wasn't trying as hard to be funny as others in genre, and that made them funnier. I especially liked her childhood stories, but then I like childhood stories generally. I think I just like to get a sense of people's beginnings.