For That Artsy Reader Girl's Top Ten Tuesday: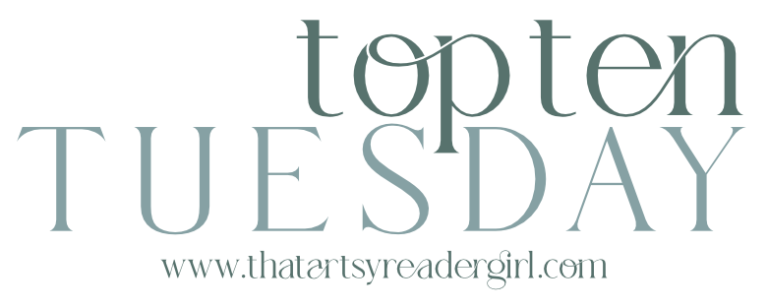 November 29: Cozy Reads (Share books that give off a cozy vibe, whether through atmosphere, setting, or some other factor. Please tell us why they're cozy for you, too!)
I often think of "cozy" as having a setting or atmosphere that's cold, when I'm all tucked up nice with a warm blanket and a hot cup of tea. But not all wintery settings are cozy! These are a few that are:
The Thirteenth Tale by Diane Setterfield – This author also has another good wintery book, Once Upon a River, but this one feels a bit cozier to me somehow. Vida Winter is an author known for a collection of short stories. She's reclusive and has given the press several conflicting life stories over the years. But at the end of her life, she decides to tell a biographer the mysterious thirteenth tale to her collection: her true story involving a mansion, a fire, a governess and a ghost.
The Bear and the Nightingale by Katherine Arden – Even though I felt like the trilogy got better with the second book, this is definitely the most wintry. Vasya and her siblings live in the Russian wilderness, where it's winter most of the time. They spend many a cozy evening listening to their nurse's fairy tales. When her father brings home a new wife, a devout woman who doesn't allow for fairy tales and household spirts, Vasya must save her family and her home from the consequences.
The Death of Mrs. Westaway by Ruth Ware – Aside from a gloomy atmosphere this book also has some nice, gothic, Rebecca-ish vibes. Harriet 'Hal' Westaway has been living hand to mouth since her mother's death three years ago. She's barely getting by when she gets a letter from a lawyer saying that her grandmother has recently died and left her money. Hal knows it's a mistake: her grandmother died years ago. But she's also desperate. She heads to Mrs. Westway's Cornwall mansion to try to claim the inheritance. But when she arrives she discovers a family that may be more closely connected to her than she realizes. The estate comes with a lot of secrets, that might give Hal the family she's always wanted, or might get her killed.
A Winter's Tale by Mark Helprin – This one is polarizing, and also just plain weird. But I think reading it in a warm room with a cup of tea while a storm rages outside is a good way to experience this one. When a thief, Peter, tries to rob a wealthy home in late 19th century New York City, he's surprised to find the terminally ill daughter of the house, Beverley, at home. Against all odds, the two fall in love. But Beverley is dying, and to save her, Peter is driven to stop time and defy death itself.
The Hunting Party by Lucy Foley – Every year, a group of college friends meet up to ring in the new year together. This year, they're spending the week in a hunting estate in the Scottish highlands. But over a decades worth of secrets and resentments weigh on this group. As they're isolated and trapped by a blizzard, someone is killed. Whodunnit?
A Wild Winter Swan by Gregory Maguire – Laura lives in New York City with her grandparents in the early 1960's. One winter, under difficult emotional circumstances, a swan boy with one wing lands on Laura's roof. To help him, Laura hides him from her grandparents and tries to build him a replacement wing. As he tells her his story, the reader sees that it parallels Laura's experiences with her grandparents.
Still Life by Louise Penny – All the Inspector Gamache books apply but I'm going with this one because it's first. They're set in Canada, near the US border and even when it's not a specific winter setting, reading them gives me a sort of cozy feeling. When a local woman dies in the town of Three Pines, the locals think it's an accident. But Inspector Gamache suspects foul play…
Landline by Rainbow Rowell- This is also a nice holiday season read. Georgie and Neal's marriage is on the rocks. A few days before Georgie, Neal, and the kids are headed to Omaha to spend the holiday with Neal's family, Georgie finds out she needs to stay in LA for work. He's upset and packs the kids and goes without her. But Georgie is able to connect to past-Neal via an old corded phone. Even though Georgie is in LA, a lot of this novel takes place in Omaha, where it's cold and snowy. But it's still a warm story.