For That Artsy Reader Girl's Top Ten Tuesday: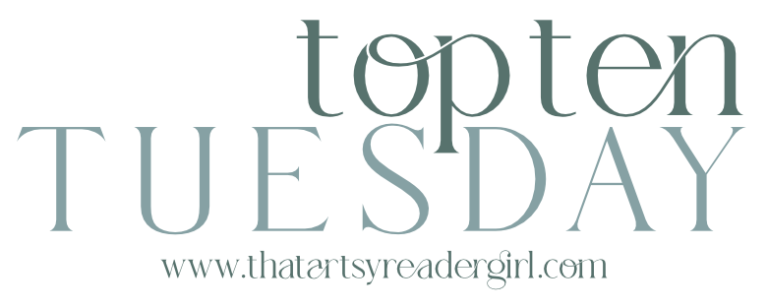 I didn't get to make a list last week because I was busy, but I'm back today! The prompt was:
September 27: Typographic Book Covers (Book covers with a design that is all or mostly all words. You can also choose to do books with nice typography if that's easier!) (Submitted by Mareli @ Elza Reads)
But I decided to do my own thing this week.
A conversation I had earlier in the week got me thinking about Shakespeare. Even though I think the plays are best experienced as theatre, art inspires art. Many novelists have been inspired by Shakespeare.
Hag-Seed by Margaret Atwood – Felix is the artistic director at a theatre festival. But his latest project is teaching theatre as part of a prison literacy program. He stages a production of the Tempest, and in doing so, enacts his plans for retribution against his many wrongs. This is sort of a play within a novel, and the two texts begin to intertwine.
Nutshell by Ian McEwan – This is a weird book. It's about a woman (Trudy) who has been unfaithful to husband with his brother (Claude). Now, they plan to get rid of her husband forever. The only "witness" to the evil plan is the fetus that Trudy is pregnant with…
Warm Bodies by Isaac Marion – Hey, if Pride and Prejudice can add zombies, so can Romeo and Juliet! R is a zombie. He and his friend M spend most of their time shuffling around and eating brains. But when R eats a brain, he gets a bit of that person's memory. So when he eats the brain of zombie-killer Perry, he sees Perry's memories of his beloved Julie. For some inexplicable reason, R doesn't want to eat Julie. He cares for her… The Romeo and Juliet parallels sort of come and go here, but it's not meant to be a "serious" retelling by any means. There's a whole series, but I only read the first one.
Vinegar Girl by Anne Tyler – The Taming of the Shrew is a tough one to retell since the source material comes off as misogynistic to contemporary ears. But Tyler managed to turn Shakespeare's shrewish Kate into a sympathetic protagonist. Yes, she's a bit prickly. But she runs her home, keeps her eccentric-scientist father going, and deals with her younger sister, Bunny. But when dad's research assistant is about to be deported, he comes up with a plan to keep him in the country. You can probably see where this is going…
A Thousand Acres by Jane Smiley – King Lear goes Iowa. A farmer decides to divide his farm among his three daughters. His youngest don't like the idea, so he disinherits her. This sparks a chain of events that reveals dark family secrets. I always felt Lear's older daughters were where the some of the real drama lies, so it's nice that they have a chance to take center stage here.
New Boy by Tracy Chevalier – Osei Kokote is a diplomat's son, who is used to being the new kid in school. When he hits it off with Dee in his new suburban DC elementary school (circa 1970s) he's hopeful. But Ian can't stand to see this budding friendship and plots to destroy it. Shakespeare's characters in Othello do sometimes act like children. But I felt like setting this in a school playground took away some of the urgency here. Yes, it's tragic, but in Shakespeare I felt like the characters should know better. Whereas here, we can kind of understand why they're not acting like adults!
The Great Night by Chris Adrian – One summer evening in 2008, three people on the run from relationship issues converge in San Francisco's Buena Vista Park. This just so happens to be the same night that some drama is happening with faerie queen Titania, who is upset about the break-up of her marriage. I love A Midsummer Night's Dream, and I loved the idea for this one. But as much as I wanted to love this book, it just didn't come together for me.
Daughter of Time by Josephine Tey – I went back and forth about whether or not this book belongs on this list. Then, I thought "It's my list, I can do what I want!" Yes, Richard III is a historical figure rather than one Shakespeare made up, but for many years people associated the real king with Shakespeare's depiction of him. While he's recovering from a broken leg, Inspector Alan Grant falls upon a portrait of Richard III that seems to dispute that depiction. Grant turns his detecting skills to discovering who Richard Plantagenet really was, and what motives the Bard may have had to villainize him.
Ophelia by Lisa Klein – Ophelia falls for the handsome prince Hamlet, and marries him in secret. But as his sanity begins to falter (or does it?) she finds herself backed into a corner with seemingly no way out… I was actually pretty impressed with how well Klein weaved the Hamlet story we all know, with Ophelia's back story. While this may not be the Ophelia of cannon, it works well with the cannon. This also had a pretty decent film adaptation that's on Netflix now.
Juliet by Anne Fortier – When her beloved Aunt Rose dies, Julie is devastated. The only thing her aunt leaves her in her will is a key to a safety deposit box in Italy. That's where Julie learns of her ancestor Giulietta Tolomei, whose 1340 love affair with Romeo would inspire Shakespeare's tragedy. It also may have set a curse on Giuietta's family that threatens to make Julie it's next target. When I read this book it struck me as what Dan Brown might write if he wanted to go the Shakespeare fan fiction route. It's entertaining though.