For That Artsy Reader Girl's Top Ten Tuesday: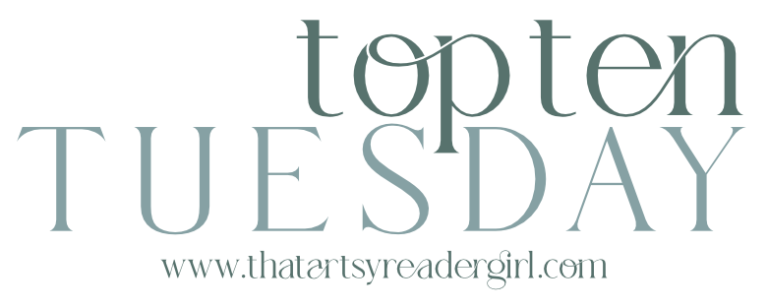 March 15: Books On My Spring 2022 TBR
Rather than adding new books to my (already too long) TBR, I'm just sharing the next 10 books I plan to read. The order might change depending on my mood:
The Dragonfly Pool by Eva Ibbotson– My book club does one week each month where we select genres and all read our choice of book from them. Next month we're doing Middle Grade books, and I've had this book by one of my faves, sitting on my shelf for quite a while.
Piranesi- by Susanna Clarke – I've had this on my TBR for a while, and I've heard mixed things about it. I also had mixed feelings about Jonathan Strange and Mr. Norrell, so I'm not sure what to expect, but I recently picked up a copy.
Dancing on Knives by Kate Forsyth– This was a gift from my Aussie book buddy. It's by Kate Forsyth who is one of my favorite authors of fairy tale influenced fiction. This is an older work of hers. It's a bit different from her retellings (I think the fairy tale is more of an influence here), but I'm looking forward to it.
Truly, Madly, Guilty by Liane Moriarty – I have a copy of this sitting on my shelf, and it feels like something I'm sort of in the mood for. It looks like a sort of "dark side of suburbia, everyone has secrets" kind of read.
The Flowering Thorn by Margery Sharp – Another one that's been sitting on my shelf for a while. I keep saying to myself "I'll read this next," and then picking up something else. I really do what to read it though!
The Harp of Kings by Juliet Marillier– Another gift from my Aussie Book Buddy. Actually she got it for me last year, and got the sequel for me this year, but I still haven't read this one (*hangs head in shame*)
The Herd by Andrea Bartz– My book club had a book swap over the summer and I picked this one up. I've heard good things about it recently, so I'll give it a try.
The Marriage Plot by Jeffrey Eugenides- This has lived on my shelf for a looong time. I never seem to get to it. But I will. I will! One of my resolutions this year was to finally read some of those books that have been sitting there gathering dust.
A Beggar's Kingdom by Paullina Simons – I won this in a goodreads giveaway like, two years ago. I didn't want to read it until I'd read the first in the trilogy though, which I finally did last year. So hopefully I'll get to this one soon!