Last summer Netflix's The Babysitters's Club sent me into nostalgic bliss. This summer, Netflix kept my childhood literary nostalgia going, with their Fear Street trilogy. When I was about eleven I devoured these books. They didn't particularly scare me, they were more trashy, self-consciously cheesy fun. So when I heard that Netflix had adapted the series into a three film event, I definitely wanted to watch. It sent me on a walk down memory lane (which just so happens to be adjacent to Fear Street.)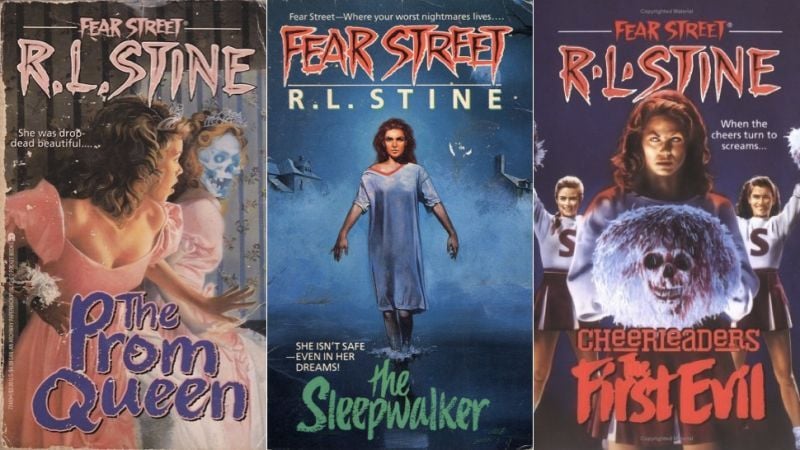 The Fear Street books were centered around a street (called Fear Street) in the town of Shadyside, Ohio. They were more of less stand alones set in the same universe with some characters appearing in more than one book. However, there were several "miniseries" within the main series. These were (usually) trilogies, centering on one storyline. They included 99 Fear Street: The House of Evil, Fear Street Cheerleaders, and the origin story, The Fear Street Saga. There were also some spin-off series.
The Netflix films act as a sort of mash up of bits and pieces the series. They use tropes that appear a lot in the series, along with settings readers may recognize. Author RL Stine began writing the series in 1989 (I started reading them years later) and they reached their heyday in the early-mid 1990's. The first film begins in 1994 (when the books were probably at their height of popularity), and they move backwards with the second set in 1978 and the third in 1666.
Rivalry between Shadyside (home and Fear Street and Murder Capital USA. We never really learn why people continue to go there…) and the nearby Sunnyvale (nicest place to live ever) is high. When Deena Johnson's girlfriend, Sam moved to Sunnyvale, Deena broke up with her. Now things are tense to say the least. One day, Deena and her friend Kate are on a school bus, with Sam and her new boyfriend in a car behind them. In an ill considered move, Deena and Kate throw a water cooler out the emergency exit, causing Sam and her boyfriend to crash. No one dies in the accident and Sam's injuries seem minor. But the crash disturbed the grave of Sarah Fier, executed for witchcraft in 17th century Shadyside. Soon ghosts from the violence in Shadyside's past come torment Sam, Deena and Kate as well as Deena's brother, Josh, and their friend, Simon.
The Sarah Fier storyline references the Fear Street Saga. That's a story that's followed through all three parts of the film series. The plot of this film brings together several elements from other books. .
The second film in the series is set in Camp Nightwing (book fans may recognize this as the setting of Lights Out) on the border between Shadyside and Sunnyvale, in the summer of 1978. Ziggy, rebellious and angry, is in her last year as a camper. Her older sister, prim and proper Cindy, is a counselor. When the camp's nurse tries to murder Cindy's boyfriend, Cindy soon comes to realize that she may have had a reason to do so. A reason that ties in to the death of Sarah Fier almost three hundred years earlier…
In this film, we meet another important family: the Goodes of Sunnyvale (these names really aren't subtle!) The connection between the Goodes and the Fiers goes back to the days when Shadyside and Sunnyvale were a single colonial settlement.
The conclusion is set in Union Settlement (soon to be split into two towns, Shadyside and Sunnyvale). Sarah Fier is a friend of Solomon Goode (ancestor of Nick). One night she and several other friends attend a party. Several strange things happen, and the next morning, the town is struck by misfortune. Food goes rotten, animals become viscous and the pastor goes mad, locking several townspeople into the chapel and killing them. Solomon Goode's brother, Elijah, convinces the townspeople that Sarah Fier is a witch who brought a curse upon the settlement. The accused witches are condemned to be hung and dawn, but Sarah has a plan to turn things around.
I liked that this series managed to tell a story both forwards and backwards. We see Deena's story upfold over the course of the trilog as she tries to break Sarah Fier's curse, while the 1978 and the 1666 stories are told via flashback. The origin story in this is significantly changed from The Fear Street Saga books. One difference (that I remember at least! there are probably many others but my memory of the books isn't great) was that in the books we learn how "Fier" became "Fear." Also, in the books, the creepiness was centered around the titular street. The films have the same title, and we see a road sign for "Fier Street" in 1994, but the focus is on Shadyside and Sunnyvale as a region. That's not a criticism: because they books are all stand alones set in the same universe, it's waaay too much to adapt them all, unless you're making a longform series. Hence the mash up and streamlining. But I would have liked to see how the film's Sarah Fier tied into a street in Shadyside somehow.
But really what I liked most about these movies was playing "spot the reference." For example, the first scene in the trilogy takes place in a mall bookstore. We see some very Fear Street inspired book covers on the shelves, and the author of this series is Robert Lawrence. I'm one of probably only a few viewers who knows that "Robert Lawrence" is what the "RL" in "RL Stine" stands for. Yes, I am that much of a geek!
Now that I've put my geekery on display on my blog for all to see, I'll sit back and wait to see what kind of literary nostalgia Netflix has in store for me in the future.