For That Artsy Reader Girl's Top Ten Tuesday: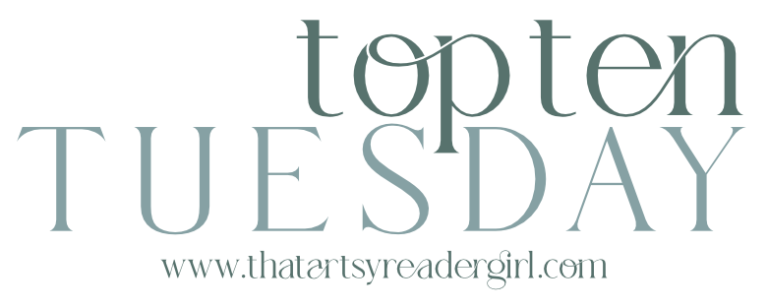 Today's topic was
November 15: Favorite "Aww" Moments In Books (Share those sweet/cute moments in books that give you warm fuzzies.)
but I totally drew a blank! So I did another adaptation wishlist. I tried to stick to books that I think would work either as miniseries or longer series.
Here are some similar posts if you're interested
Books That Should Get TV/Film Adaptations
Books That Deserve a Film Adaptation
I'm going to try not to repeat anything included on a previous list!
The Lymond Chronicles by Dorothy Dunnett – Seriously, these have adventure, spying, romance, a handsome hero, political intrigue, family drama, royalty and more. What's Hollywood waiting for? Especially since costume dramas are having a moment. The book series is completed (so no Game of Thrones style problems) and there are six, so there's plenty of material.
Emily of New Moon trilogy by LM Montgomery – I know this did technically did have a made for TV adaptation but since I didn't consider if all that successful I'm not counting it (I'm also not bad mouthing it though. It just didn't live up to its potential IMO) But I think that since Anne With an E, while not faithful to the books, was recently popular, TVmakers might consider some of Montgomery's lesser known, but just as lovely work.
Ninth House by Leigh Bardugo – I actually didn't love this book, but I liked it and I think it might make a better show than a book. Also, since I haven't read the second book (since it hasn't come out yet) I can't attest to it also continuing the "good for a series" streak. But I do think the first one lends itself nicely. We've got a fancy Ivy League setting, lots of secret societies, some magic, some crime… It could work very nicely onscreen.
Hawthorne and Horowitz series by Anthony Horowitz – Horowitz's other meta-mystery series, Magpie Murders, is already a series, but I think this one could work too. The biggest challenge would probably be casting an actor as the fictional version of Anthony Horowitz. I don't know how close they'd want to stick to reality with that.
American Royals series by Kristin McGee– I don't know how I'd classify this series really. Maybe alternate history/soap opera? Regardless I do think it could make a fun slightly soapy series: the lives and loves of the American royal family (because in this timeline, George Washington was the first American king rather than president).
The Diviners series by Libba Bray – In one of my previous lists, I included Bray's Gemma Doyle trilogy, which I still think would make a great show. But this one would too: a supernatural mystery with a 1920's setting. Full disclosure: I've only read the first two in this series. I actually want to reread the first two books before I read the last two, since it's been a while.
The Flappers trilogy by Jillian Larkin – Like the Diviners series just above, this is also set in the 1920's but it's pure soap opera without any of the supernatural frills of the Diviners. In a previous list, I mentioned Anne Godberson's Luxe series as another book series that would make a good show. This would make a good show for very similar reasons: good looking people in pretty costumes stabbing each other in the back is always fun to watch.
Victorian sensation fiction – These is really a subgenre of novels that I think would adapt very well to miniseries format. I'm thinking East Lynne, Lady Audley's Secret, No Name, etc. Some of these have been adapted for the screen before, but usually as a TV movie rather than a miniseries, and they haven't been adapted in any form for at least twenty years. But secret marriages, forgeries, seductions and suspicious deaths never go out of style. PBS/BBC take note!